Chatbot Case Study
Imagine – you're chatting with a friend on Viber or Messenger and suddenly you feel hunger crawling from the depths of your belly, making your mouth water with anticipation. What do you do? Leave the chat, call your favourite restaurant or go to their web site to order some food. Man, that's so 2017. Here's an idea – why don't you order your food directly from the chat app?
Yes, you can do that, at least when you're in the mood for the most tasty minced-meat sticks slowly grilled over a coal fire, packed in a delicious flatbread. Did your mouth just water? Mine surely did. I'm talking about Mrkva.ba, the ćevap restaurant with the longest tradition in Sarajevo. And as the tradition embraces progress and innovation in the form of Mrkva's food ordering chatbot, the taste of their food remains traditionally irresistible.
It starts with the stickers
93.25% of users that subscribed to the chatbot came from downloading the awesome sticker pack. In other words, every user that downloaded Mrkva stickers was automatically subscribed to the chatbot.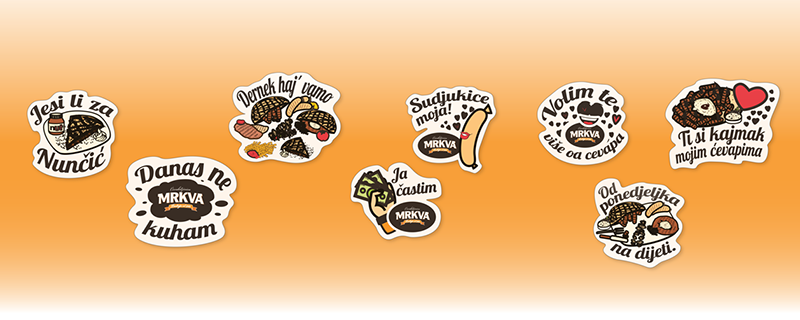 Using the sticker pack is a great way to promote your brand and make Viber users your brand ambassadors, so it's important to create relatable sticker designs that can be used in everyday conversation. Two most common situations where stickers are used are expressing emotions and for humor. Can you think of a better way to handle someone who is hangry (both hungry and angry) then to invite them for a delicious Mrkva-made meal using fun stickers?
Viber vs Messenger vs Web – is there a superior channel?
Mrkva chatbot is available on three different platforms: Viber, Messenger and their own website. If you're wondering which channel performs best, here's your answer: 99.91% of chatbot subscriptions took place on Viber, only 0.07% on Messenger and 0.03% on their website.
However, this makes perfect sense if we take into consideration the sticker pack on Viber vs. no promotion on Messenger.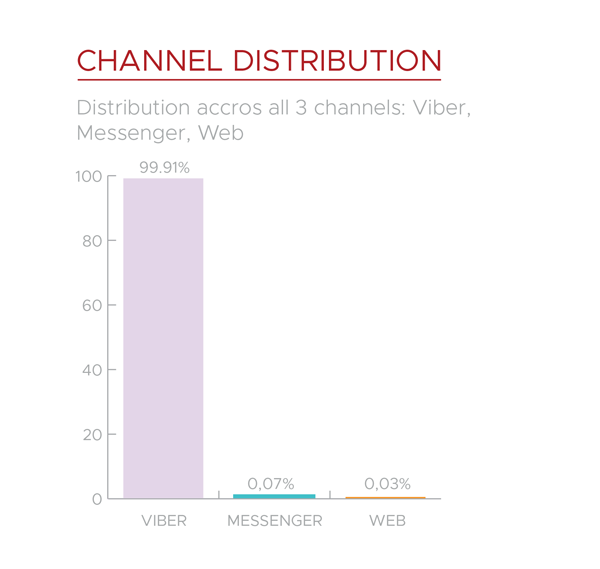 You can read more about using Viber for Business here.
User engagement
78.42% of subscribers interacted with the chatbot, and 3.59% of them took the conversation to the next level – a full on chat. This is understandable due to the fact that over 99% of users were subscribed automatically to the chatbot by downloading Mrkva stickers.
Luckily, there is a way to easily and quickly engage those who interacted with the chatbot but have not proceeded with the chat. By sending a broadcast message, whether to the entire subscribers' list or to narrowly targeted groups within the list, we can significantly increase the engagement rate.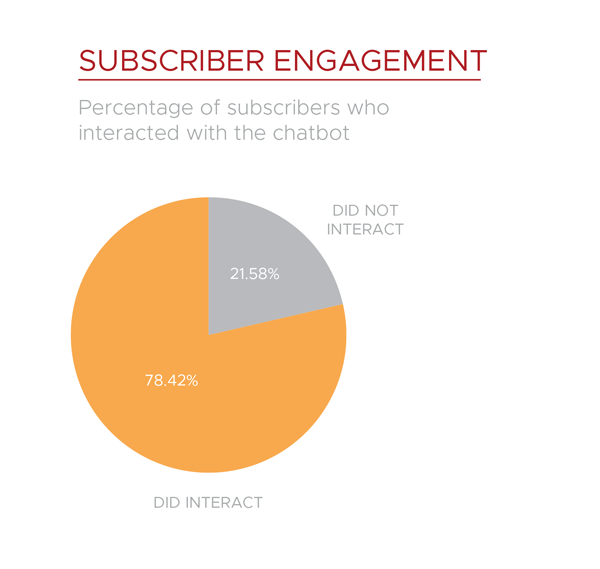 Take-out or Go-out
The chatbot supports two distinctive actions for its users. Firstly, they can order take out from the menu. 11.06% of unique chatbot interactions resulted with an order, and 41.30% of users who completed the order came back to order more than once.
If we compare the distribution of orders across all platforms, 80.43% of users finished orders in the Viber chatbot, 17.39% in Messenger and 2.17% ordered in the website chatbot.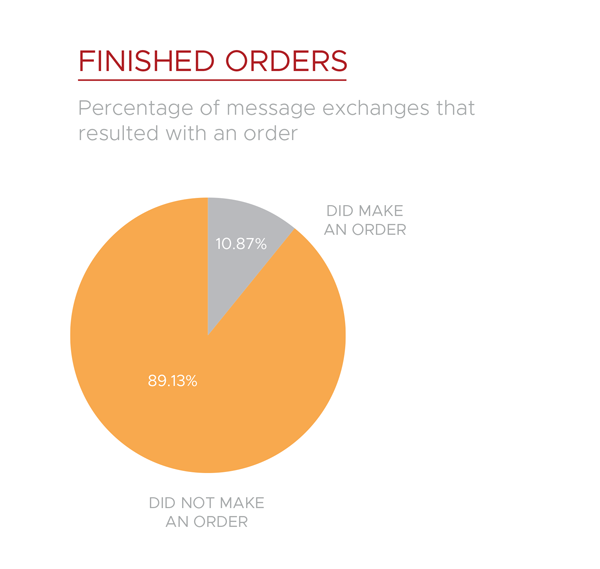 Secondly, they can find the nearest Mrkva restaurant to go and enjoy the entire experience of munching on the delicious ćevap surrounded by the authentic atmosphere of the restaurant, or how they say in Sarajevo, ćevabdžinica. In order to do so, they had to share their location and 16.59% of them did that. This data enables us to later do a retargeting broadcast based on their location.
Again, if we look at platform distribution, it's even more in the favour of Viber, as 97.28% of users who shared their location did so on Viber, 2.72% on Messenger and none on the website.
Check out the entire infographic here.
Wanna be a first in your branch as well?
You too want to be the first and potentially a shareable use case, just like Mrkva did? Or you simply want to increase user engagement by adding a highly interactive and actionable communication channel?
You can have your own chatbot within two weeks from now. That sounds compelling, doesn't it? Then get in touch and order yours.